This week the Safari experienced a symphony of building- a concert of creativity! HG Addresses at the end of the post.
First stop was on OSGrid, the region called Torino Italy, with our hosts Alfiere Rossini, Lucy Rosadisharon, and Giuliano Carminucci. People hypergridded in from at least nine different grids to be part of the fun, and learn a little about Alfiere's build.
Thirza Ember: we need to study piemontese
for our first stop tonight
George Equus: Hope chat will be in English :) No parlare Italiano buono :)
Ange Menges: They are late as usual :-)
Giuliano Carminucci: hi boys i speak a little english but a little - but
write is a disaster ahahah
Alfiere Rossini
Ange.Menges
@hypergrid.org:8002: et francais, Giuliano ?
Yara.Eilde @hypergrid.org:8002: I'm german
Ange Menges @hypergrid.org:8002: Nobody is perfect : Thirza is speaking italian as french
Thirza Ember: badly in both
kindup truk@grid.kitely.com:8002
:
i am aussie ;) here is babelfish into italian for me: Ciao a tutti che questo appare come un mondo molto bello con un sacco di bella gente qui oggi
No Image @bubblesz.nl:8002: Hello hello :)
Thirza Ember: for those who do not know, No Image, aka artist and mesh designer Taarna Welles, is experimenting with a low impact hg avatar -
her 'no image' avie is designed to make no lag, by having almost no inventory
No Image @bubblesz.nl:8002: Poor as a baby :)
So please, do not share gifts
Thirza Ember: no bicerin for taarna
alfiere rossini
(it>en): the Interiors unfortunately have not been faithfully reproduced for various reasons - it is not possible to photograph interiors; behind the building there are the Royal gardens which likewise are not identical to rl, but the fountains here in the square are just like the real ones.
No Image aka Taarna Welles in the foreground
alfiere rossini (it>en): the style of the buildings are Austrian Baroque, because the Royal family were related to the austrian Royals which brought the style to Turin. The Palace in the Centre of the square is called palazzo madama.
Dings.Digital @craft-world.org:8002: is it for rent? beautiful facade
Isolde.Caron @hypergrid.org:8002: yes, we can have a nice italian rendezvous Dings....
alfiere rossini (it>en): It was the first Senate building when Turin was the capital of Italy, It was the first Senate building when Turin was the capital of Italy. Here in this position there is another street called via Po with reference to the Po River which is further down with another beautiful square. Sooner or later, I will get around to building that too.
Aime Socrates @
ignis-fatuus.no-ip.biz:8002: this sim is a very good copy of the real torino
Lucy Afarensis: I would not mind this being home
Isolde Caron @hypergrid.org:8002: yes very nice
Dings Digital
@craft-world.org:8002: yes, looks great. an invitation to explore.
snowbody cortes:
most people don't know it, but Italy only became one united country in the 1860's the time of the American Civil War.
The tour of the build got us talking about other points of interest in Turin, the Mole Antonelliana which houses a wonderful Museum of Cinema, the recently revamped Egyptian Museum, said to be the second greatest collection of Egyptian artifacts, and the Museum of the Automobile - Turin is, of course, home to both Fiat and Maserati.
alfiere rossini (it>en): Just to be clear, you will find some houses and other constructions on the edges of the region - they are not part of RL Turin. This build was sponsored by the Fiat car factory of Turin and was originally in SL, however when the SL adventure came to an end, since I was both builder and owner of the installation, I brought them here. The photos were taken by a friend of mine, a very talented architect. I live in Turin, about 5 minutes away from these squares.
Thirza Ember @hg.francogrid.org: I think real place builds are wonderful resource... virtual toursim! And plenty of options for music events!
Aime Socrates @ignis-fatuus.no-ip.biz:8002: this would be a great sim to visit for schools...no ?
Nara Nook@world.narasnook.com:8900: it would
And then it was time to go... off to
Avatarfest
. A place that repays your patience with some spectacular builds!
Drang Po of Kalasiddhi Grid meditates as he waits
This year the multi-grid celebration is hosted courtesy of the smart people at Metropolis Grid, and they set up the region to make chat and movement a priority, so if you notice it takes a long time for the objects on the sims to rez, that is normal.
It's a good compromise for a place where visitors are plentiful!
We chit chatted, sitting at the bar, and thought about all the hard work Han Held, Danko Whitfield, and all the rest of the team have put in to make this event happen... and wondered how many people would be offended because I forgot to name them in this post.
Here are six details from builds on the region - can you find them all?
Eryn Galen's Aragog spider
Swirly art by Spiral Silverstar
Chained statue by plastichansa bade
Starfleet logo by Karl Quar
Fest'Avi art by Cherry Manga
History portal by Serene Jewell
All kinds of interesting builds are here, from grids ranging right across the hyperverse, from Kitely to Francogrid, LIghthouse to 3rdRock Grid, and many points between.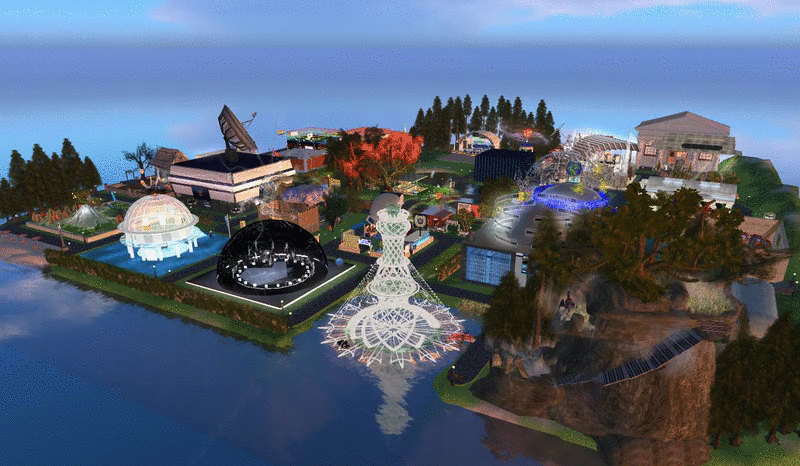 And the range of ideas and passions is just as wide, from African snacks to meditation crystals, from avatar DNA, to history, to horror, to 2 and 3D art crossing over into the real world.
Sunshine Szavvana's Sunvibes
The hyperverse's main magazine HG Visionz is represented, and there's a glass maze, an ivory tower, and a Quiz build by the LEO network, so plenty to do, admire, and read. We are blessed with so many interesting exhibits, it's really hard to count them all - what's your guess? How many regions and grids are represented here?
Over the Fest weekend, which was at the beginning of this month. There were a number of live performances, both music and theater, including concerts by Truelie Telling, Rosy O'Grady, Joao Frazao, and the Fabulous Wailers; readings by Emil Jannings and Dings Digital, as well as Eldovar of 3rdRock Grid, performances by the Avatar Repertory Theater - on a peripheral venue on Cookie II, for technical reasons - and Caledonia Skytower and Shandon Loring of the Seanchai Library put on a reading of Rod Serling's The Lonely.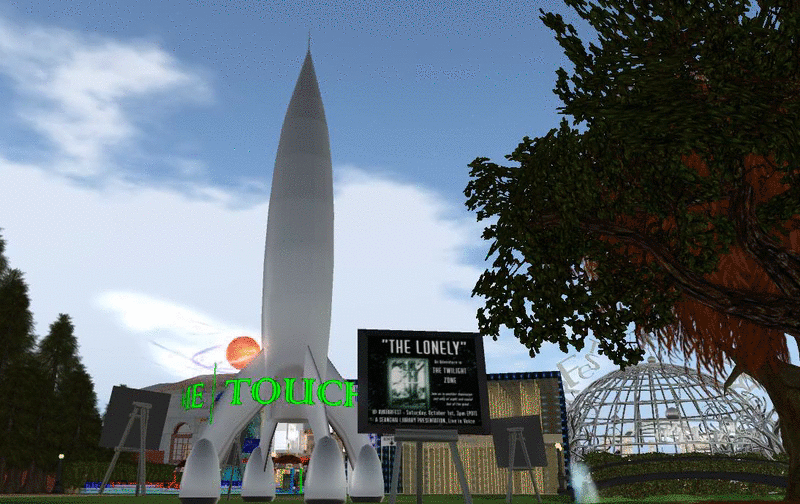 A range of fine DJs who kept the party going over many time zones!
By the time the Safari arrived, live events were over, so the Safari took advantage of the nice streaming radio and had our own little dance with some visual effects courtesy of Wizardoz Chrome.
If you missed out in being a part of AvatarFest this year, and want to be informed for next time, click here to find the group in G+ .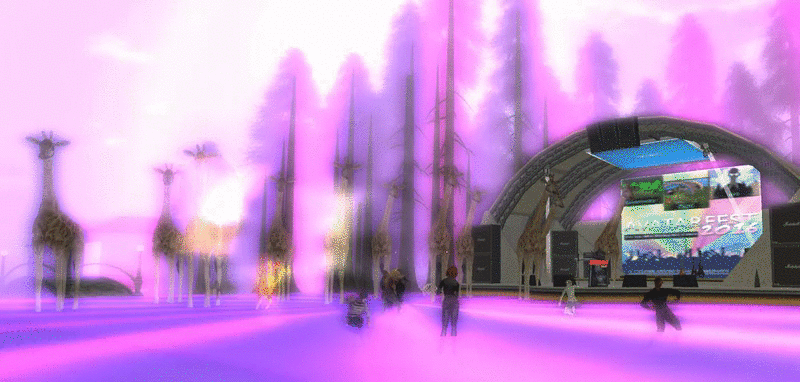 HG Addresses:
Virtual Turin hg.osgrid.org:80:torino italy4
Avatarfest (open until end of October only) avatarfest.net:6000