Generositania isn't a real place... it's loads of places, where the spirit of generosity is the fundamental working principle. Here are three fun places in opensim
, with an emphasis on altruism, that
you should definitely go and see.
HG Addresses at the end of the post as usual. First stop, the Dune Project on Metropolis.
Neovo Geesink: Welcome at Dune-1
Wizardoz Chrome (it>en): Like film Dune? ... or ...
Truelie Telling: there is no resemblance to the world of the film Dune, or the books
Neovo Geesink: I don't know why they are Called Dune. Lena Vanilli is the "boss" and has made this Project of 5 4x4 var regions possible.
James AtLLOUD
something gigantic just rezzed in my camera view.
Taarna.Welles: Wow, already have seen very very nice creations :)
George Equus: Phew made it
Neovo Geesink: Wow, I am glad that I have placed this Meetingpoint here. :-)
Thirza Ember: so how many regions in this free area Neovo? and what is the qualification for people to build here?
Neovo Geesink: There is no qualification. The Dune Project is meant to be without limits, and free for all Hypergrid users.
Lucy Afarensis: I just rezzed a some what warped gargoyle, has a lot of vertexes.
Thirza Ember: people build really big things here!
Neovo Geesink: Sure, That's why we have made 4*4 VAR regions, to accommodate the Space. Although a Single Prim can not be longer then 255 Metres, The combination of such can span large regions.
Aime Socrates: can we also build trucks ?
Lucy.Afarensis: I have a 2 kilometer mountain range would that rez here ? I use it for off sim decoration
Neovo Geesink: No, This region is only 1024*1024 Metres.
Thirza Ember: do you get griefing here?
Taarna Welles: Do we have griefers in OS?
Thirza Ember: lol well, enthusiastic big builders
Neovo Geesink: It can be that there are griefers, but it is negligible. Sometimes I am called in for a malicious Script... That's most of it. This is purely a Sandbox purpose, but without an Autoreturn. Only when it becomes too intolerable, there will be objects be returned.
Ange Menges: ossl is allowed here ?
Neovo Geesink: OSSL? Which actions you prefer to? Dynamic Textures, and Direct Avatar Teleport on collision and Touch are permitted, and possible.
Thirza Ember: I found a coffee machine
George Equus: coffee.... brb!!
Neovo Geesink: IF you wander the Dune regions, you will really find almost everything here. Dune-Water has some nice ships...
Ange Menges: the NPC functions ?
Neovo Geesink: NPC's are functional, but i don't know to which extend or complexity. I am uncapable to access the Server Consoles directly. At the M&D Teleporter near the marked Landing zone, those regions are enlisted. I have set every Dune region to a fixed state of day, so Everyone can pick a Dune in which their Builds will come to senses with its Environment. Only Dune Water has a "standard" day and night cycle
Taarna Welles: Neovo, are you planning to promote Dune on G+?
Neovo Geesink: I am not the one that can do that... Lena Vanilli, or any of the Metropolis Admins should be capable of doing that.
snowbody cortes: does the Dune project have a time limit? or is this something permanent?
Neovo Geesink: I do not know if it is really Permanent. But, there is no time limit set yet. IF it becomes popular among the HG enabled Grids, I think that this will become a Sandbox HUB for all of the HG enabled Grids. There are indeed big and complex builds here at the Dune Regions. Some are even left Copyable by their Owners, so anyone can take a copy.
Cherry Manga:
except this wonderful kitchen set near us that just watches us saying "noo nooo nooo" :)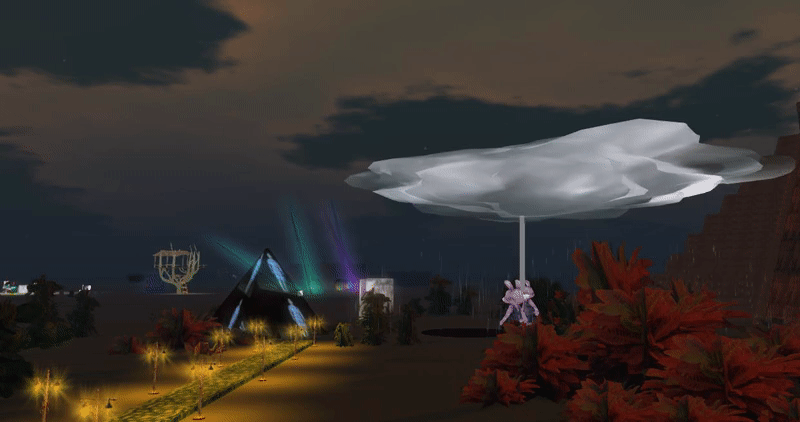 George Equus: Very interesting project
Neovo Geesink: As from this moment, This meeting place is set to be copyable.
James AtLLOUD:
I just took a copy of the chairs - will it come with all our avatars?! lol
Neovo Geesink: Of course not :-) That will be a BIG malfunction of the Asset Server if you get all Avatars with it... :-)
Cherry Manga: that's great to have such huge space and to be able to co-work in hypergrid
Truelie Telling: do you mind if we have meetings and such here?
Neovo Geesink: You are absolutely free to get meetings in here. No problem with that. I rent a 2*2 VAR region which has a Special Meeting deck, complete with interactive Display Panels.
Truelie Telling: kewl... I have a project... a musical comedy about avatar life, which i hope to get folks from all over to play in
Sunbeam Magic: OMG Trulie what a grand idea
Mal Burns: oo fun Truelie
Truelie Telling: so an empty space where we can erect things might be more useful
Cherry Manga: sounds great Truelie
Neovo Geesink: Sandbox Neovo is that region.
James AtLLOUD: cooool
Mal Burns: sounds like a movie lol!
Truelie Telling: I need all of you to work with me... it's very participatory theater
Sunbeam Magic: you can count me in - I'll be Tinkerbell :)
Taarna Welles: Sounds exciting
Thirza.Ember: This is a very optimistic place.... generosity and creativity here
Neovo Geesink: I am glad that I could be of Service to you! Please feel free to roam the Dune regions, and bring back good memories to your Home Grid.
James AtLLOUD: This is so friendly - a great and generous place. TY
George Equus: Great place do demo building for newcomers
Parcdesarts, Francogrid
Second destination, Art on Francogrid
Math professor and painter Layachi Ihnen has been present in Second Life for nine years (here is the SLURL for his gallery on sim Music) and has a Facebook page for his SL avatar Amadeouche Layachi.
We were invited to see his art in Francogrid by the outstanding Art Curator Katia Parcdesarts. Her hard work and generosity makes it possible for artists to get their work seen in environments befitting their art. Organizing and advertising her events is a gift to opensim, one that shouldn't be overlooked.
Layachi's images have a serene and surreal quality to them, there is a spirituality and mystery that both inspires and intrigues. Many look like the kind of tableaux one sometimes sees in virtual worlds.
Katia Parcdesarts (right) and Layachi Ihnen
Layachi IHNEN: Hello all ! Thanks for coming !
ParcDesArts katia: Hello tout le monde
To overcome the language barrier, we got Cherry Manga to help translate the questions and answers. She's good at English... and of course at French to! We sat in the comfortable ring of chairs in the center of the gallery - another advantage to virtual gallery visits is that you can be part of the group conversation, while at the same time taking your own personal 'wander' around the room using the camera.
Thirza.Ember: question... How did Layachi discover opensim?
Cherry.Manga: Layachi came in opensim, by Katia's invitation to show his work to the opensim community here
Taarna.Welles: @Layachi, are the paintings for sale in RL?
Cherry Manga: Only painting are for sale, Taarna, digital works aren't printed yet
Layachi IHNEN: On the title of works ... P= Painting ... and ...D= Digital work
M=Mixed , Digital +acrylic
Lucy.Afarensis: What is the original medium ?
Layachi IHNEN: for paintings ? ..oil and acrylic !
Thirza.Ember: I love them. so warm.
Claudius Utopy: I love theirs for the same raison
Sunbeam Magic: How long have you been painting ... and what inspires you?
Layachi IHNEN: since 1969 the first paintings
Taarna Welles: @Layachi, can you tell us a bit more about in what programthe paintngs are made?
Layachi IHNEN: The program for digital works : CorelPaint
Lucy Afarensis: Do you rework your paintings then in Corel paint or are they separate works
Layachi IHNEN: yes i use the 2 ways ... Painting to digital ...and digital to painting
Sunbeam Magic: Do you have a favorite ?
Layachi IHNEN: I dont think a painter have a favorite work ... otherwise you might get stuck I think that a painter make the same work all his life ..in différent forms
Cherry Manga: ahah the painter works all his life but explores different ways
Taarna Welles: @Layachi, how many years did it take to master yourself in CorelPaint?
Layachi IHNEN: Corel paint ? since 1998 and i learn to day still :)
Taarna Welles
: Wow! People often forget how much time and effort it cost to learn all the ins and outs.
Sunbeam Magic: do you play Chess in rl ?
Layachi IHNEN: chess ! yes ! a long time !!
Sunbeam Magic: same here! it's a fascinating game!
Claudius Utopy: me, i like to chess ?
Thirza Ember: Layachi, having had the virtual gallery experience, would you recommend it to other artists?
Layachi IHNEN: The virtual galleries ? It's something that will be more and more important in the future.
Thirza Ember:
Question for Katia, what is your motivation to bring artists into Francogrid, and how much work is involved in the process?
ParcDesArts katia:
Curating, to communicate about the artists, making their work known, the virtual media allows all possibilities. From Francogrid, i reach out to all grids It is energizing to hear artists talking about their work, this is an excellent way to allow artists to meet their public.
George Equus: Thank you for showing paintings!
Landing on Kalasiddhi Grid, our final destination, was a piece of cake. Kalasiddhi is a grid devoted to Buddhism, run by Drango Po and
Nyom Chung who took time out of their day to be with us. There are some lovely regions on this grid, and lots of free items, so definitely worth your attention.
Drango Po:
Namaste
The region we came to visit is a Tibetan Language sim designed and programmed by Chris Koeritz and William Magee. Here is Bill Magee's blog post about the build explaining how you can get the oar. It was made for the Dharma Drum Buddhist College - here is a link to an article about it, and here's another link to a slideshow about the build. It's no longer available there, but Drang decided to preserve the oar and keep it open on his grid 24/7 as a cultural, educational, and religious resource. So in a way it's a piece of virtual world history.
Drang Po:
I was thinking of adding another region beside it and changing the code as all the code on this oar is really old... I think we can improve on it a bit now, but wanted to leave this as it was as it's history...
everything works as they programmed it... if anyone wants to work on improving the code the oar is a easy download
Cherry Manga: can't wait to hear tibetan sounds :)
Seen from above, the language acquisition platform is an eye. There are several different learning tools, a cube that intones the vowels, another board with phrases, another with words, and there are scripted lessons too. We adopted a floating pose while listening to the voices. Cherry's Silver Streaker avatar meditated right along with us.
Left to right, Snowbody, Sunbeam, Thirza, George and Cherry study the Tibetan language board
Truelie Telling: glad we got here early so I had a chance to enjoy this place a bit, but RL calls
Cherry Manga: That's not a tibetan beginner lesson :D
Thirza Ember: who knows some conversational tibetan?
Sunbeam.Magic: Ring my bell ?
Billy.Bradshaw: ding
George Equus: Have friend that speaks fluently
Sunbeam Magic: really George that's amazing
George Equus: Spent 2 years in Tibet
Cherry Manga: that sounds elfic to the ear, like the sound of the language and i bet what it's said is wise words too
Shortly after, we got
Drang and Nyom Chung in Voice, reciting mantras in Tibetan and a little bit of Sanskrit too.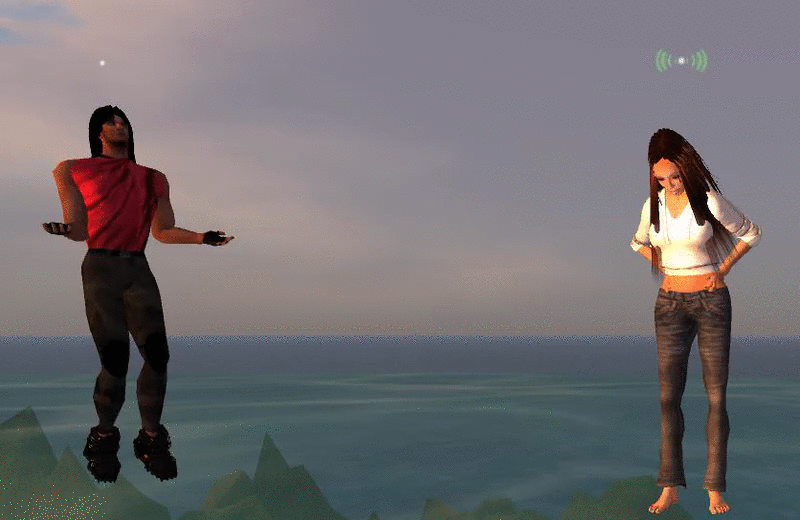 It's a refreshing, tranquil place, and indeed, all three destinations this week were about serenity, creativity and generosity. What the world needs now, I'm sure you'll agree.
HG Addresses
Dune Project hypergrid.org:8002:Dune-1
Layachi IHNEN in opensim hg.francogrid.org:80:parcdesarts
Tibetan sim kalasiddhigrid.com:8002:
DDBC