Three artists, three countries, three genres, three grids this week.
The theme this week, the interplay between real and virtual worlds when it comes to art. Obviously, it's all art. But working in virtual worlds can be a great stepping stone to begin or re-ignite an artistic career. It can inspire your creativity, suggest new ways to express yourself, give you the courage to put your work on display, and help you find fans and clients. HG Addresses as usual at the end of the post. Landmarks are available at our clubhouses on OSGrid and Francogrid for the next few days also.
Our first stop, A'Shaala on Francogrid, home of Talie Tramont also known as Talie Tramontane. An art school graduate based in France, Talie is best known for her photography, which you can find on Deviantart, as well as on this lovely region.
Thirza Ember: everyone has the Lms?
Malon Wyngard: got all
Thirza Ember: her computer broke suddenly yesterday, she was fixing up many winter things for us to do but... boom - no computer
Cherry Manga: She has computer issues so she leaves us on her region, she can't imagine what a safari can do when alone!
Sunbeam Magic: Does it snow in France?
Cherry Manga: here, it's fog and fog and fog since 3 weeks
Spike Sol: liegt überall schnee im Moment.. nur draussen nicht
Dabici Straulino: na hier her haben wir ca 50cm Schnee - Quebec
.... as you can see we're a very international bunch.
Ange Menges: So we walk, Thirza ? Where ?
Thirza Ember: to the coffee shop
snowbody Cortes: hello Xirana
Sunbeam Magic: Hot cocoa?
Thirza Ember: there are more in the other gallery, but here you can sit and cam
Alya VonZ: yes, have been camming and looking:)
Lucy Afarensis: Lovely rugs
snowbody Cortes: yes Lucy
Sunbeam Magic: I love forests, our CA redwoods get so big you can actually drive thru some of them lol
Cherry Manga: very impressionist trees
Dabici Straulino: also nice presentation with nice height for our avatar sight, even accomodating large volume avatar
Spike Sol: Hallo Gill
Max Hill: hello everyone
Harthelie Deux: bonsoir tout le monde
Thirza Ember: I am so sorry Talie is not here to see this, we must all take many photos and put on facebook
Ange Menges: Don't worry Thirza, Wiz is here......
Cherry Manga: can we make doodles on the walls as she's not here? :)
Lucy Afarensis: hehe
Sunbeam Magic: this build is really cool ... i really liked the wrap around glassed in porch balcony
We moved on further around the region, which is laid out like an old village, with narrow streets and snow-filled squares; quiet, mysterious, as if locked in another time.
Drang Po: Cherry just noticed you look like Kali
Cherry Manga: just notices you watched me with only one eye ;)
Lucy Afarensis: This is a great presentation. The Galleries are works of art
Dabici Straulino: not only great artist photographer but great feel for museum installation
Cherry Manga: Yes , I can't answer if she makes photoshop, gimp or anything, but it's her photographies, here, it's all opensim taken. Talie offers space to people to exhibit freely. I don't know if she mentioned that to you, Thirza
Sunbeam.Magic: sweeeet - I have been collecting virtual shots of Sunbeams , maybe I shall put together something and contact Talie ;)
Thirza Ember: yes, that's a good point, I bet a number of people here could use some space... make an artist colony
Martin.Eccles58: Very good !
Thirza Ember: Martin, do you do art?
Sunbeam.Magic: not me, nature's sunbeams
Martin Eccles58: no, not really, but i like it - a little photography, I like experimenting with fuzzy atmospheric shots some times
Cherry Manga: I should have one or two cat photographies to provide ;)
Thirza Ember: I'd kind of like to do a little show of photos of rl... we must all ask her for a bit of space! a few prims won't break the bank
Martin Eccles58: yes!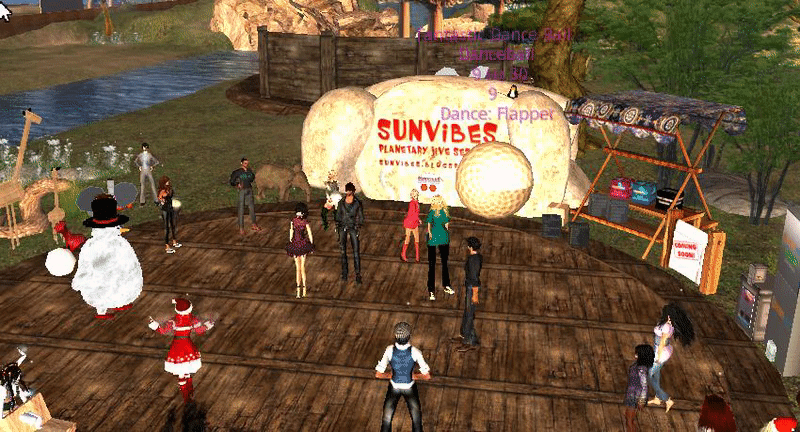 At destination 2 we met Xirana Oximoxi, a Catalan painter and author. Here is her website.
Her studio is on Sunvibes, an African themed region belonging to Sunshine Szavanna. It's on Craft grid. We began our visit with a little bit of dancing to some World Music, a specialty of Sunshine.
There was a strong xmas spirit in people's costumes, especially Dabici Straulino with her snowman avatar.
Cherry Manga: Are you ok Dabici? I mean Sunshine + Sunbeam...won't melt?
Sunshine Savanna: in Africa snowmen have a difficult time :) but it's appropriate, we are going to read a story about a snowman today
Dabici Straulino: I am perfectly ok, I love living at high risk
Thirza Ember: xirana has a studio on this region, shall we go see it?
Sunbeam Magic: but first tell us ... where is Xirana from ? I"m melting to know
Sunshine Savanna: she is from Spain :)
Sunbeam.Magic: aha
Alya VonZ: I've seen these pictures, they are lovely Xirana
Lucy Afarensis: They are nice
Cherry Manga: points the "winter mood" painting to Dabici
Xirana
Dabici.Straulino @hg.creanovale.ca:8052: I love this one, a feel of Arctic - I must du a selfie near this blue icy painting
Thirza Ember: xirana is both painter and writer! she has shown her art in SL as well as this opensim gallery
Xirana Oximoxi: being in SL has made me paint much more...and also stat to write children's tales and illustrate them. If you click the laptop you can watch the slideshow too...but I can try to read it with voice if you prefer ... we can read it aloud but also paste the text at the chat on peut le trouver aussi en français dans mon site

She read the book 'Amanda and the Snowman' in voice, and we were all transported back to the wonderful bed-time childhood world of talking bunnies, flying children, snowflakes and happy endings. What's not to love.
Sunbeam Magic: I love your perfect accent!
Upstairs, we saw some more of Xirana's work.
Xirana Oximoxi: on the left you can see the first tale I have illustrated, I did it in a course to learn to maKe children books...it is written in Spanish - it's a tale of a little mouse too:)
Cherry Manga:I have a question - did you ever think of illustrating your books in 3d? make environements for each tale?
Xirana Oximoxi: the message of the tale is how we can repair thinks ...a way to save our planet a little bit ...restoring things and not putting everything to trash
Xirana Oximoxi: yes Cherry, that's the idea :) but I go slowly
Sunshine Savanna: : we can start with your giraffes Xiri :)
Xirana Oximoxi: I am still learning to illustrate using a digital tablet
Sunshine Savanna: : is it difficult?
Sunbeam Magic:reduce, reuse, recycle
Xirana Oximoxi: I draw by hand, scan the drawings and paint it with Gimp and the tablet; it's not difficult, but it takes time to get used and skilled with it:)
Sunshine Savanna: : so you first draw by hand then paint digitally
Xirana Oximoxi: yes...exactly, to paint digitally you have a lot of options to play with colours and if you don't like it...you just delete a layer ... on paper...you need to draw it again :9
Sunshine Savanna: : true layers help lots
Cherry Manga:yes right
We also visited Xirana's hilltop studio and continued to talk about the interplay of encouragement, experience, and opportunities that working in both real and virtual communities offer.
Xirana Oximoxi: 1 am illustrating a japanese tale about cats... a gallerist in SL asked me to prepare and exhibit, I did not want to show one of my tales (I've sent to a RL competition) so I looked for traditional tales without copyright and I am preparing it.
Our final stop of the day was on OSGrid at The Docks, a region by Scottius Polke, aka Scott Rolfe, on a sim owned and operated by Clairwil Oh. Like Xirana and Talie, Scott's work reaches from the virtual into the real, as his many real world creations made from recycled objects confirm. His virtual installations like The Docks remain firm favorites and The Docks perhaps most of all for its soft wistful atmosphere where any avatar looks at home, from a snowman to a robot and beyond.
Clairwil Oh and Scottius Polke
Scottius Polke: Thanks to you all for coming on this cold coastal evening... I will talk mainly about how my rl and sl art have intersected. I joined SL in March 2008 having no idea of its potential for art. My first experiences with sl art were to import my existing art as flat images. I put those up in a gallery. As my art in RL is usually 3d, it felt unsatisfactory. So decided to see what would happen if I recreated the art inside SL. The picture in front of me show an idea of my first attempt. This is a flat image so you can only get an idea, but the art on the right is the SL version, it had moving parts and was 3d
Jessie.Campbell: does it exist in 3D?
Scottius Polke: yes
Cherry Manga: Otter, that's so cool to feel this space again! ?
Scottius Polke: I am an assemblage artist in RL, and have lots of junk I would create pieces in SL using images of junk I have in RL, such as this picture in front of me ~ grins ~ coming full circle, I made another piece in RL based on the SL piece!
Clairwil Oh: Scottius, you might want to mention that some of these items that are in RL have lighting inside of the sculptures.
Sunbeam Magic: lighting means so much in virtual worlds I suppose in RL too for art ?
Alya VonZ: love those giraffes;)
Cherry Manga: Otter, did you import the mush room here in os?
Scottius Polke: not yet, I found importing this one to be quite a headache, especially as they were built on the old megaprims that I didn't own
Cherry Manga: aww, hope you'll trick it
Scottius Polke: yes, would be nice to have a copy here
Spike Sol: hehehe thats cool
Scottius.Polke: as we have been bringing up, the pictures in front of me are from mushROOM, my first full scale installation - the textures are entirely made from hand drawn illustration, colored in photoshop and imported inworld
Cherry Manga: were the texture made under mushrooms effects? :)
Sunbeam Magic: wow that's quite a feat indeed, making textures
Scottius.Polke: lol Cherry, I am mushROOM effects
Dabici Straulino: you could easily then create a comic book from pictures taken there
Scottius Polke: In fact machinimas have been made at a couple of my sims, including the one we are in. The next build I did was Lunamaruna, which was like mushROOM but much bigger, once again hand drawn textures
Clairwil Oh: To me, Scottius' work done in SL reminds me of what Dr. Seuss would have done if he's worked in the metaverse. The colors and the humor, and his creatures.
Scottius Polke: In both cases, I did a hand drawn illustration of the builds, thus tying them back to RL again, the illustratios are seen on the top - next photo is of Giraffes I made in in RL
I brought many of my animals into SL, and with the help of an amazing scripter named Desdemona, we made them free range
Sunshine Szavanna: we call giraffes cinnamon horses hehe
Scottius Polke: Cinnamon horses! Cute! I love making animals, they continually appear in my art: I've made elephants, giraffes, turtles, crocodiles, and pufferfish as wandering creatures
Martin.Eccles58: Elephants make art too, and music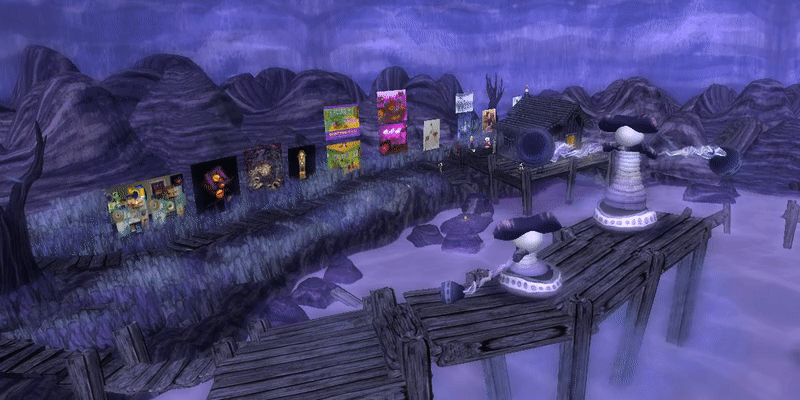 Scottius Polke: now to talk a little about this sim: I discovered an online program named scribbler. This picture on the top was the whole inspiration for this build... I posted this on flickr one day, and Colemarie Soleil insisted I make it into a build. This whole sim was created using illustrations from the Scribblertoo program, and once again colored in photoshop
Alya VonZ: hm, have to check that out sometime:)
Scottius.Polke: One of my friend's loves this sim, and commissioned me to make this ink and acrylic painting below -: once again SL and RL intersect. One of the best things I love about our virtual worlds is how one person's art can inspire another... From the Docks (this sim), a machinima, poem and short story were created. Later on, a friend named Penelope Parx was part of a multimediaart show in Viareggio, Italy... She included some of my rl, Hypatia's machinima, as well as her own art and that of another SL alumnus, Harter Fall.
Clairwil Oh: oh, that youtube makes me cry...it's so wistful. a great story
So art becomes an ocean current, carrying the breeze of creativity knows where, bringing treasures and transporting us to new places, renewing and refreshing our community. Let's keep it moving by participating!
HG Addresses:
Talie Tramont Photography: hg.francogrid.org:80:a'shaala 01
Xirana Oximoxi Illustrations and books: craft-world.org:8002:sunvibes
Scott Rolfe art: hg.osgrid.org:80:the docks