A very musical Safari this week, with a trip to 3rd Rock Grid for the first two hours, to hear two musicians, and learn about the No Borders Festival, a two-day concert for charity, which happened last weekend. Want to visit the places mentioned in this post? The HG addresses are at the end. Copy paste them into the Map feature of your viewer.
Truelie Telling, photo by Wizardoz Chrome
First up, though, Truelie Telling warmed up the crowd at the Lodi Ballroom with some avatar-centric songs, in her inimitable style. She soon had the room hopping!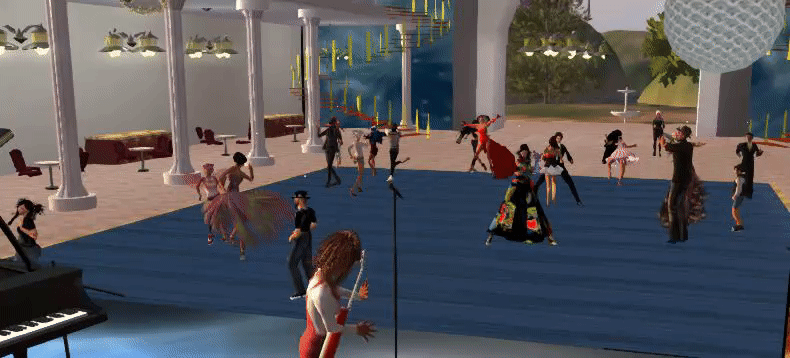 It's a beautiful ballroom, at Lodi, made by Zinnia.
Zinnia Frenzy: I think I need to say thanks to Eldovar here as Kered and I made this buld 5 years ago it was 900 prims lol...Eldovar took our hefty build and meshed it, reducing it down 700 prims.
Lodi Ballroom
Ziggy Cagney whispers: :) NICE
Thirza Ember: Zinnia, Kered, and all the 3rd Rock team, first of all CONGRATULATIONS on another successful Festival! Can you tell us what Charity benefits from your festival and why did you choose that one?
This year's No Borders festival Stage. The festival was held earlier this month.
Zinnia Frenzy: well we have always supported Doctors without Borders MSF, he main reason its a worldwide charity and has no affiliations to political or any government ties, its a truly independent charity
xSIBERIAx.ILFREDDOPURIFICA (it>en): (a round of applause for your choice)
Sunbeam Magic: I love the 'NO Borders" ... like Hyperverse !
Zinnia Frenzy: We didn't start the event it originated with Laz Pooraka and friends in SL 10 years ago and they brought it here when Terry Ford started this grid. So I am not the originator it was 4 years old before I was drafted in with a lot of help.
Thirza Ember: how many musicians and DJs participated this year?
Zinnia Frenzy:we had over 20
Sunshine Szavanna: would love to do it next year
Zinnia Frenzy, ballroom style
Zinnia Frenzy: It was full - we had one failure when Jasher's internet was wiped out. Its an amazingly easy event to book. people just ask when it is, and we all try to get a date that suits, then I just schedule everybody! The rest do the hard work of building and hosting.
Sunbeam Magic : and isn't Madmax one who has done it every year ?
Zinnia Frenzy: Max and Kitzie Lane have missed one in 10 years, Rosedrop Rust never missed one. The same people come back and we add new people year on year. This year Rosy here opened for us. So that was a lovely thing.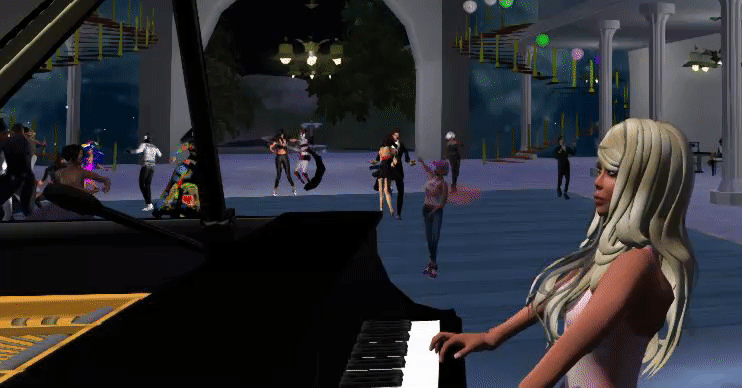 Rosy Ogrady
Thirza Ember: how much money did you raise this year?
Zinnia Frenzy: we raised $1004 this year. we have some more that's coming in in small amounts, but the response always amazes me.
xSIBERIAx.ILFREDDOPURIFICA (it>en): Do you have a particular channel to help doctors without borders? or use the official website for donations?
Kered Owl: the site we use is here https://www.justgiving.com/fundraising/Derek-Richardson5
Zinnia Frenzy: we try to send lump sums as you get really messed about with currency exchange and Paypal charges so we absorb the fees, and they get the full donations. It's only fair. But its really a joy to be part of and we love doing it Its in our blood and we will continue
Truelie Telling: same for us musicians, Zinnia, a joy and an honor.
Zinnia Frenzy: That's the thing that amazes me, the musicians who play, they stay and they donate. This has been the nicest year we have had because it's been so well supported. The amount of publicity that went out from other grids - We were on Metropolis splash page - I think events like these that bring us together are so important. We all have our home grids but that doesn't mean we can't help each other.
Sunbeam Magic: and many Welcome Landings had your poster up too Zinnia
Thirza Ember: you have live music, DJs and ... what else?
Zinnia Frenzy: We have people who read and do poetry. Oshi of course is always here
Thirza Ember: so... Zinnia, Kered, for anyone organizing a big hypergrid festival have you got 1 word of advice ?
Drang Po: at least you don't have to feed them and have portapottys, first aid staff etc :)
Zinnia Frenzy: Check every single world event and don't clash with the Superbowl lol
Thirza Ember: a super bowl would substitute for a portapotty if need be
Ziggy Cagney: I Had Super Bowl Of Cheerios...it was yummy
Zinnia Frenzy: I missed valentines day, but after 42 years K and I don't need a special day. Something always 'happens' during the festival, but a good tech team behind you and the best technology you can have helps.
Zinnia Frenzy: And now it's time for Rosy to sing. She is our Singer is Residence at The Ballroom. She wandered in here and said "I sing a bit," a few years back, and now is on 9 grids.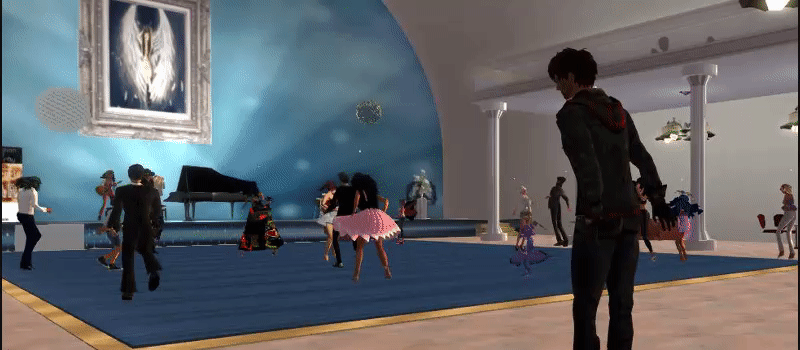 Rosy gave us an outstanding set of ballads featuring upbeat, romantic and positive lyrics, delivered in a beautiful fluting voice, and accompanied by some nice comments in chat, making her one of the most talented and tuneful multitaskers in the metaverse. Make sure you go and hear her, among her many gigs, she sings at the Lodi Ballroom at 1pm Grid time everyWednesday
Lucy Afarensis: Wonderful Performance
Wizardoz Chrome: applauseeee
Destiny Moore: APPLAUSE
Mal Burns: APPLAUSE
Eldovar Lamilton: woohooooooooooo!
Ziggy Cagney: you have a beautiful voice
rosy ogrady: thank you
Eldovar Lamilton taps his foot to the music
Dolfke Barbosa: I'm VERY glad to see so many HG Safari members here tonight
Zinnia Frenzy: Its been wonderful
Sunbeam Magic: WE are very glad to be here Dolfke!
... and then it was time to be off and away to our final destination.
The Spring burlesque show on flaire_burlesque region
For our final hour, we went over to Nara's Nook where Jessie Campbell has a region - and a project - that we were all eager to see.
Jessie, with the help and inspiration of Chopsy Bode, who imported the concept from another grid we're all familiar with, has been working on making short - and - sweet performances in the burlesque style using NPCs. It is a way to express sensuality, artistic ability in both the costume of the performers, choice of animations, music, and of course, the scripting!
Arielle Delamerlibre outside the theater where you'll find the Winter burlesque show.
Each show takes a phenomenal amount of time to complete, so Jessie intelligently came up with seasonal spectacles. Her Winter show is complete, and the one she showed us first was the Spring show - still a work in progress, but due to be finished by March.
But before showing us the main attraction, she had organized a very interesting history of Burlesque, which really helps to contextualize the art history of the entertainment. Rarely will you ever find a more elegant and sexy history lesson!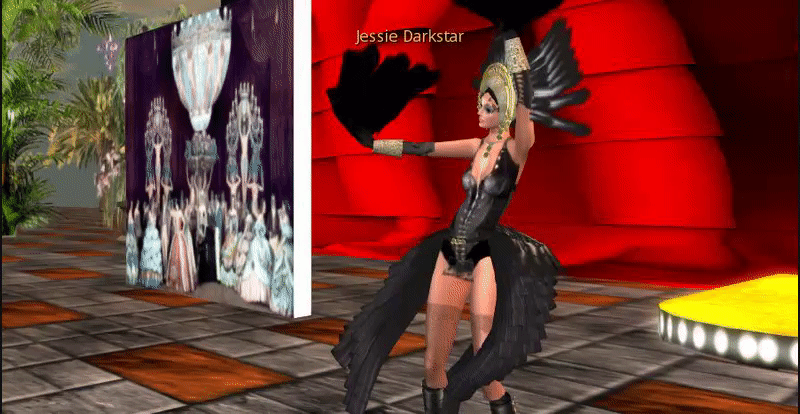 If you're not a fan of sexy-times in virtual worlds, never fear, this is not the usual atrocious prose, tawdry scenes, and depressingly unimaginative drek we've all come to expect from the soft porn brigade.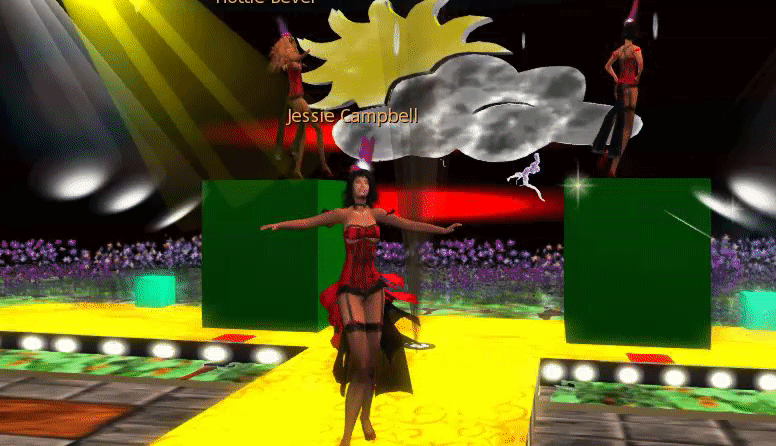 There is something bright, stylish, lighthearted, and sophisticated about Jessie's work that may inspire you to get involved...
Mal... you're drooling.
...and possibly develop your own short burlesque number. A sort of starter kit is available on the region. Be sure to wear your most elastic knickers if you try The Chair! .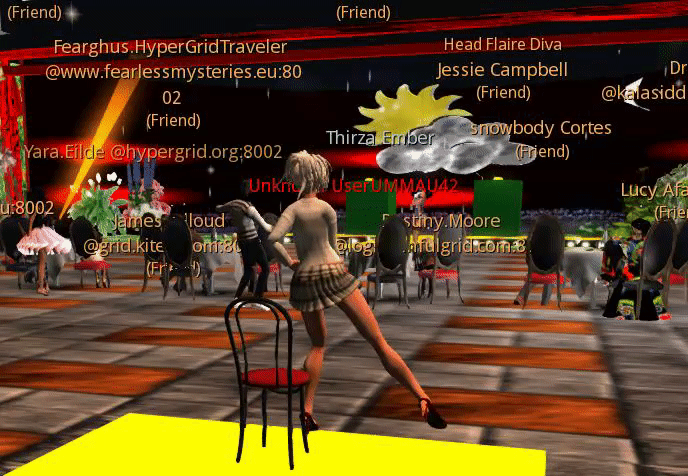 ... extra stretchy knickers are an essential for this piece of equipment, unless, like Drang Po, you are prim perfect... oh my....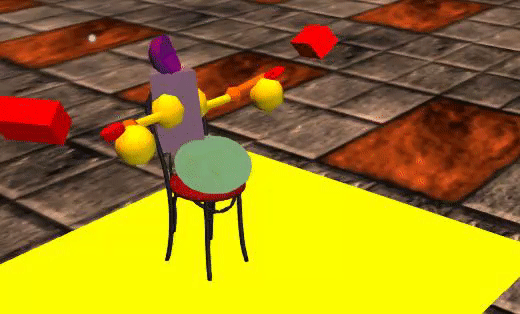 With more than 20 real life avies on the region, plus another 10 bots, we were deliciously lag free, thanks to the fine scripting power of Aine Caoimhe.
When you visit, be sure to look for the theater and the Winter show, which is just as impressive as Spring. This is a great project, and one that's sure to attract many visitors and participants.Thanks to all who came along, hosted and generally made it a lot of fun!
HG Addresses:
The Lodi Ballroom grid.3rdrockgrid.com:8002:lodi
Flaire Burlesque world.narasook.com:8900:flaire_burlesque