This week, the Safari trip had a single destination, to the literary grid Nara's Nook, celebrating three years of writerly pixels.
Nara's Nook is the brainchild of Nara Malone, and styles itself as a colony for people who would like to explore their literary creativity online. Whether you're an author in need of moral support, or trying to revive a stalled novel-in-the-works, or looking for inspiration to come up with a new storyline, or curious about using new 3D methods to convey your narrative, Nara's Nook can help. Here's the Nara's Nook website.
Scroll to the end of the post for them list of the places visited this week.
We met on Greyville, the Welcome sim of Nara's Nook, a picturesque square crowned with a book-based fountain and a large library building. Siobhan Muir, Shannan Albright, and of course Nara were all there to meet us.
Nara Nook: Welcome to Nara's Nook!
we have a writer dungeon set up to inspire writers for NanoWrimo, an annual event where writers try to complete an entire novel in a month
Siobhan Muir: National Novel Writing Month
Nara Nook: so we have various devices, like stocks to lock you at the keyboard until you make word count, and a logomanteuom which uses black mirrors and dark arts to pry a novel from your brain
Shannan Albright:
hehehehe, love those inpirational devices :D
Nara Nook: The main attraction here in Greyville is the new library made by Neo. We wanted something open and soothing, a bit romantic; the furnishings are mostly Mattie McBrides.
Serene.Jewell:
Very nice, I feel smarter just being in this building.
Ange Menges: Neo is someone always perfectly organized so a library is natural to build for him :-)
We had been asked to show up as characters from fiction, and indeed many people had done just that; I went as a home-made Betty Boop, Cherry Manga was the Red Queen from Alice, Mal Burns looked like Prince Charming, and Fancy Day had the advantage of having a name from a Thomas Hardy novel. The call went out - who are you?
Neo Cortex
: I am Digiman from the Hypergrid Story
Sunbeam Magic: Cinderella
Ange Menges: Sherlock Holmes
valerie llauke:
im the jester in every movie and book written that has a jester in it
Siobhan Muir: I'm Elizabeth Darcy nee Bennett from Pride and Prejudice by Jane Austen
Pathfinder Lester: a very old-school primmy Optimus Prime :P
Shannan Albright: Lucrezia Borgia
snowbody Cortes: Predator
Spike Sol:
Madame Butterfly
Jess Campbell:
kinda Jessica Rabbit
Aime Socrates
: The Joker, i rigged it especially for that !
Wizardoz Chrome: The Wicked Witch of the West
Nara Nook: Upstairs we have a really cool WIP going, it is an area for authors to share about themselves and their books, I will hop up and demo the board...may be easiest if you all cam up to see.
Nara Nook:
The board will rez characters from our stories, as you flip through slides about our books. It can also rez props, the sitting NPC is holding a book,
so it gives a way to introduce readers to a bit of the story -
we are still perfecting it. W
e want to make the NPC and prop rezzing happen automatically
while it switches it should be chatting text from notecards.
Serene Jewell:
I see you Nara. Really nice idea! Rezzing characters from the books.
Nara Nook:
each author can customize what they want for their screen,
when it is all working we'll add the other authors
Neo Cortex: We are actually working on a way to present parts of the stories without having to use opensim
Nara Nook: we are bringing in authors that we know RL. L
ately we see more from Opensim worlds too;
the RL authors are intimidated by the VL peeps skills,
so we coax them out
Sunbeam Magic:
but look how quickly Shannan learned and surpassed some of us !!
she is living example
Nara Malone
Nara Nook:
we started the Future of Fiction groups in FB and G+ to get more interaction between the two groups. W
e have been working in Unity too, converting opensim builds so users outworld can visit in a browser
Selby Evans: We may have browser-viewer entry by Next Jan
Neo Cortex: Lets see how the Moses project continues. Meanwhile we will put parts on Unity, so they can be started either in WebGL or as small standalone apps on PC and maybe Android
Nara Nook: if you sign up for the ezine you can stay up to date on the webgl and events around it
http://www.narasnook.com/p/blog-page_19.html
But for now, Nara's Nook is an hg-friendly opensim community where people love to build the old-fashioned way, so we wanted to see what others had put together. We moved on to take a quick look at Shannan Albright's Christmassy region New BoHo village
Nara Nook:
Shannan has been working on New Bohemia.A place to teach new authors about virtual.
Then we moved on to Storybookland, where Sunbeam Magic guided us through child-friendly classics such as Tom Sawyer and Cinderella as well as a charming Teapot ride. It's a must-visit, with Thomas the Tank Engine, The Little Mermaid, and a beautiful little playground for the kids to explore the liminal spaces in the imagination that can be conjured when you stride virtual and real experiences.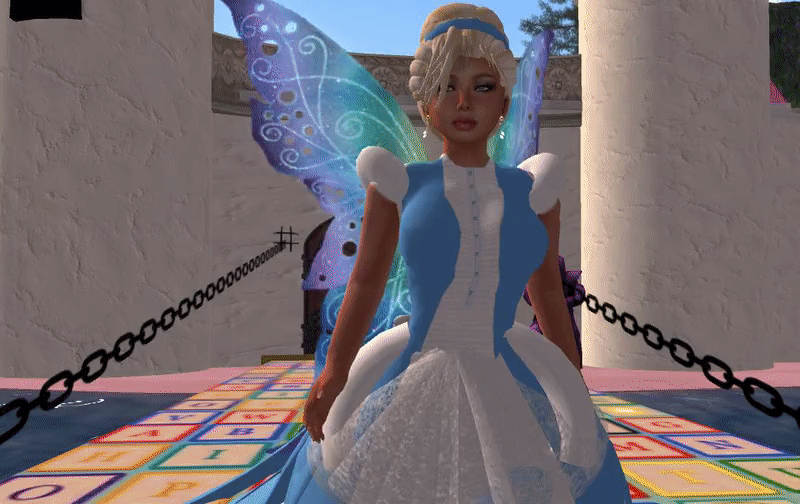 It's a place of great serenity and optimism, just as you would expect from Sunbeam, whose cheerful and kind countenance are universally loved. Or should that be hyperversally? She looked the part as a Sunny Cinderella with her trademark wings. Here she is, shepherding us from installation to installation.
Sunbeam Magic: It was an idea Nara had for nurses and ill and Austism children to come and have fun,
so it 's kid friendly and lots to do,
we have fishing, rides, fairies, circus animals ... each section represents a book;
it's still 'under construction' but far enough along every one will get the idea.
We plan on adding NPC's for the different children's book
We stepped through the rabbit hole and into the Mad Hatter's tea-party, courtesy of virtual virtuoso Cherry Manga, dressed as who else but the Red Queen.
(
Here's a funny but inappropriate gif
)
Sunbeam Magic:
Cherry so kindly put out some Alice in Wonderland avatras for free gift
Cherry Manga: Yes, sorry about the quality of the avatars but they were made years ago so.... but they are free and full perms so some parts can be interesting to take
valerie llauke: looks great !!
snowbody Cortes @hg.osgrid.org: I love this
Thirza Ember: i kind of hate the
idea of whole environments pre-made in unity ...
I know it's good for noobs, but I don't really care much about noobs.
I like the human side of these worlds, where people swap and share bits to build a world with history and sentiment.
I love the fellowship of pieces, like in these scenes.
If something is worthwhile to a newcomer, they'll learn, just like the rest of us did. The willingness to dedicate time to learn stuff is an undervalued quality, these days. When you don't invest in an activity, you don't build a relationship with it.
Easy in, easy out.
Cherry Manga: what a beautiful crowd of book heroes here!
After Storybookland we took a quick trip to see the Ball park on Dankoville, build by Danko Whitfield.
Nara Nook: Dankoville is a great for small town atmosphere if you have a story like that you are working on
... and then off to the party on sim Coca!
DJ Aine Caoimhe spinning tunes to our delight, it was fun to watch the various characters dancing together.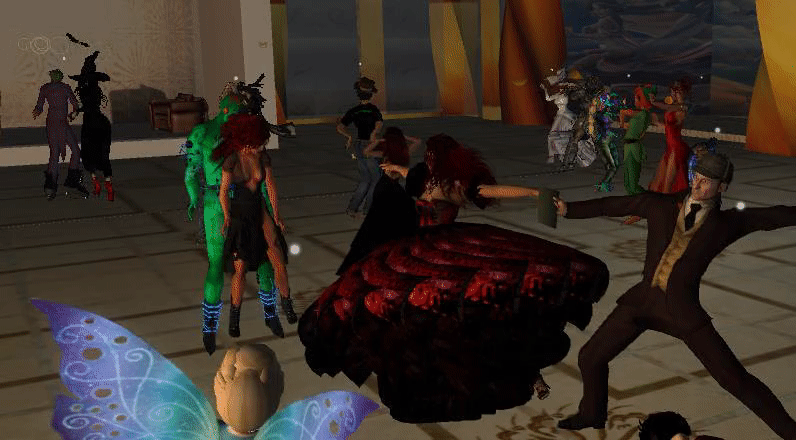 There is also a big poster board showing the latest oeuvre by members of the group.
After a while, the room hushed as we watched a lovely scene acted out by NPCs to the Alison Krause song Ghost In This House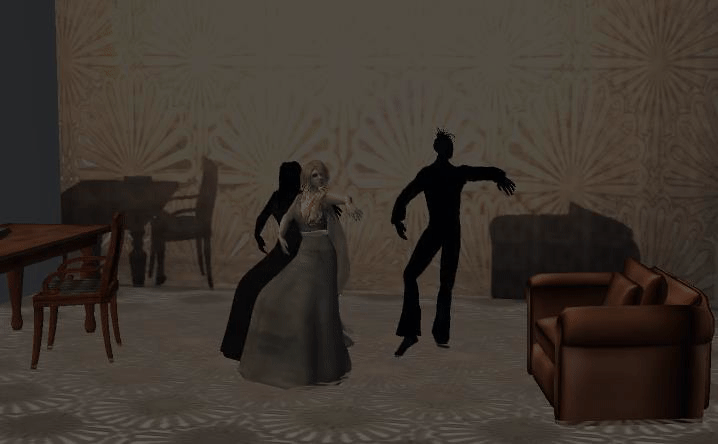 Neo Cortex: there she dances with her lover
Jess Campbell: RL- 1, Ghosts - 2
Serene.Jewell: Shadows win!
Nara Nook:
you gotta love fiction that can fill a room with such amazing characters
Neo Cortex: It is still amazing after all that time to hang out with such creative ppl
Serene Jewell agrees!
valerie llauke: its very inspiring
HG Addresses
Greyville Square (Welcome sim) world.narasnook.com:8900:greyville
Shannan Albright's New Boho
world.narasnook.com:8900:NewBoho Village
Sunbeam Magic's Storybookland
world.narasnook.com:8900:storybookland
Danko's Dankoville
world.narasnook.com:8900:dankoville
Coca dance venue
world.narasnook.com:8900:coca