RL comes first, we all know that, and for a lot of people, that makes joining the Safari impossible. Same happened to me this week. But while some weeks, the group visits specially opened sims or one-off events, this week's destinations are all easy enough to visit when the fancy takes you. And very worthwhile too. Just grab the LMs from the Safari clubhouse, for your convenience they are available at Teravus Plaza on OSGrid, as well as at our usual rendezvous, hgsafari sim on Francogrid. If you made a LM to our Francogrid clubhouse more than two weeks ago, it will no longer work, as the sim has been moved onto another server. But if you put our hg address into your map, you will find it OK. That address? hg.francogrid.org:80:hgsafari
This week the first destination was something of a load test for the group, and by all accounts it stood up well to the onslaught of the safari waifs and strays. The grid in question, Sailonbye, (full HG Addresses at the end of the post) is a mini grid that brings together three of opensim's greatest virtues: a sense of place, a talented builder of original content, and a generous heart.
When approached to organize the visit, Mindy Mathy instantly agreed and invited us to partake in the many free items on the sims.
Mindy's in Florida, and the grid has that unmistakable Sunshine State look, lots of sun, sand and ships.
Titanic stairs!
In that vein, you will find Mindy's beautiful reconstruction of the Titanic staircase in the ballroom. If you like attention to detail you'll love it, but as they say, wait, there's more. Check out these magnificent vintage cars! The workmanship is exquisite.
Next up was the Fest'avi visit, on Francogrid. This will be the third year for the event which is open to residents of all hg enabled grids, and it's organized by Cherry Manga and Praline B, ably assisted by the genial geeks of Franco, including Nino Whitman, Cendres Magic, Archael Magic, Gill Beaumont, as well as a bevvy of other talents who have contributed music, avatars, help with scripts and sim settings and all that. Yeah, I know, not everyone's name is listed here, but they know who they are.
You can visit the sim from the 2015 Fest'Avi anytime. Sit on the futuristic stadium benches, and NPCs come alive, showing off all the avatars that were featured last year, which run the gamut from sexy ethnic to funny old people to sci fi and romance to a fantastic fiery demon and his 'n' her scorpions.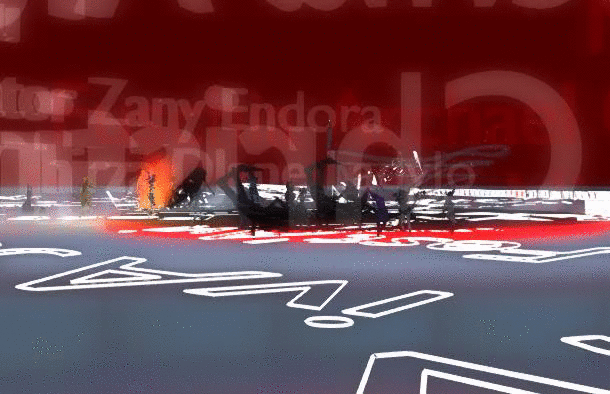 When you visit, your own avie will not be a mere static spectator, you too will be animated, and in a different and funny way depending on where you choose to 'sit'. You can just make out Thirza, jogging on the spot, at the top center of this gif. Want more?
You can also watch a video of the event,
which was an amazing spectacle.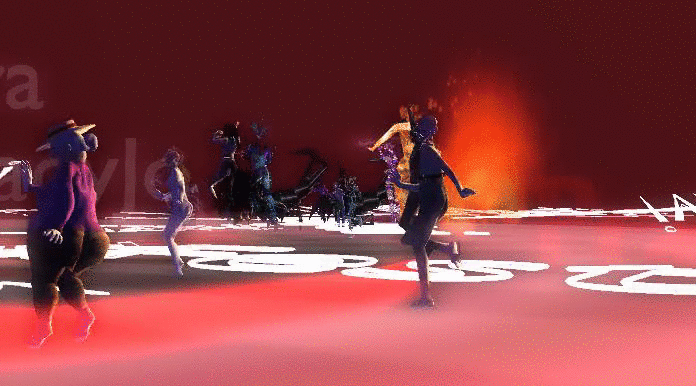 You can also learn more about Fest'avi on the Francogrid Website and on Facebook
It's hard to underestimate the importance of this event to Open Sim. Why?
Avatars are original creations and so foster the spirit of creativity in open sim, so important in this era of the 'quick mesh upload' from 3d websites

The event is not limited to an artistic or commercial elite, but open to everyone to learn, share, and experiment in programs like Blender and Makehuman.

Fest'Avi supports various kinds of avatar, from rigged mesh to attachments and the traditional 'shape and skin' approach, leaving the way open for all kinds of levels of skill and design choice

Avatars are free and full perms, again promoting the share-alike community ideal

This is the third year of the festival, which in virtual terms is a venerable tradition

The presentation of the avatars is itself a wonderful artistic show, Here is the extended 'raw footage' video of last year which gives you the full effect of what Cherry and friends managed to accomplish last year.
OK, you say, but Fest'Avi is on the first Saturday of June - I am too late to start making an avatar to be part of the show. Well even if you feel that way, you can definitely be in the audience for the big show on June
4
.
You can also start thinking about how you could contribute for next year's show. Or why not send an IM of support to Cherry Manga or Praline B just to let them know you care?
Remember, offline IMs sent from another grid often won't work. So if you want to send an IM but aren't sure if the person's online, go to their home grid, and then send it - on most grids, it will then be saved.
The final stop on this week's Safari was a Nazirah Avro concert at the art gallery of Lucy Afarensis, called Lucy's Gallery on Francogrid. This gallery features both original art by Lucy, and images that have inspired and appealed to her over the years, so it's a very clever window into her world, all in a charming contemporary setting. Also, bear in mind, there's quite a bit of nudity, just in case that is not your cup of tea; I'm strategically posed in the photo below, for example.. oh gosh, now you have to go there just to see what I'm covering up. Nazirah is from Venezuela, and is both a singer
and a virtual clothes designer.
Here's Nazirah's RL website
packed with music and delight - take a look.
While you won't find Nazirah singing on Lucy's sim 24/7, you will find a lot of remarkable art, chosen and made, by this wonderful artist and photographer, from nudes to abstract pieces.
Some of the artwork stems from the real world, including a stunning photo of Mesa Verde in Lucy's beloved Arizona, some gorgeous patchwork-like pieces, and many vintage photos, as well as some really beautiful portraits and life studies made in virtual worlds. Again, this gallery is open at all times, so you can drop in whenever it's best for you, no need to wait for the Safari!
You will find many of the pictures are free to copy and take home with you. And that's really the theme of this Safari... perhaps all of them... the sheer variety of opensim, coupled with immense generosity. We really are lucky to have so many kind people going out of their way for us. Thank you!!!
HG Addresses
Mindy Mathy's mini grid..... sailonbye.com:9000
Last year's Fest'Avi..... hg.francogrid.org:80:festavi 2015
Lucy Afarensis Art ..... hg.francogrid.org:80:lucy's gallery
(yes! there really is an apostrophe in the hg address!)