The Lost Gardens of Apollo on Metropolis,
the venue for an upcoming Torben Asp concert for HG Safari
This blog mostly talks about things you can see in OpenSim. But until they finally allow us to have Smellyvision technology in virtual worlds,

Hearing is the second most important sense after Seeing. And when it comes to audio, the hyperverse has a fine variety of interesting and talented music makers, many of them are also builders or designers too.
Maybe you're musical and would like to share your talent, or your music collection, with the community.
How would one go about doing that?
I asked around.
I spoke to a number of people off the record, as well as the following opensim music types:
Stiofain MacTomais

runs the Maritime Club on OSgrid which has a regular Sunday music event in the evening, European time.

Each with their own distinctive style, Wolem Wobbit and Truelie Telling, are two experienced

singer-songwriters who

perform in both SL and Opensim.

Foxx Bode

is an admin on OSGrid, and is one of the regular DJs at the Friday party on Event Plaza, OSGrid.
The tech side
To be able to stream music, you're going to need to add a couple of programs to your computer.
stiofain nbmcmedia: well I just have a page for classic winamp streaming that I talk people through the process... here is the link http://3dcolab.com/streaming.html ... it is just the basic tools...
Now you need a Stream, which is that web address the land admin has to set on the sim. The quickest way to do that, if you have a SL avatar and some money in the game, is to rent it. There are various kinds of stream, Icecast, Nicecast, Shoutcast, etc, and the rental companies all supply tutorials showing how do join up the dots between the various programs on your computer. You can do this either using one of the Second Life companies (just google Second Life Stream) or with internet radio hosting services. They work in opensim just like in SL.
The prices vary and often depend on the number of people you can have listening to you at any one time, and how long you rent for, and of course quality and reliability are going to be factors when prices are really low.
Test your system a few times, maybe with something like Dreamstream, which at the time of writing was offering a day of stream with 25 listener spaces for 25L on SL Marketplace. Typically, it looks like the most you would pay for a month's stream, and unlimited listeners, is about ten dollars a month. The sky's the limit, baby!
Truelie Telling
Next, if you're singing or playing an instrument, you'll need a microphone, duh.
Truelie Telling: If you have a good computer, you may find the built-in microphone on it is enough.
It depends on your style, and how much you want to invest... bearing in mind that in OpenSim, the return in terms of tips is likely to be minimal. Here is Canary Beck's first person account of what you might want to acquire just as a guide. Wolem Wobbit, a self confessed perfectionist, also recommends an external sound card.
Before buying expensive kit, t
ry out some stuff on a friend who will be honest with you about the quality of the sound. Be realistic, and do your research.
Wolem Wobbit: Go and listen to other live musicians inworld.
Some don't care what people think, but mostly people want to do what people like. G
o to other people's concerts, see how they perform, so you can see people may be different, funny or joking, naughty and singing lyrics that are not for children, some are perfectionists, some not... have the courage to be yourself. See how they do their shows, how it is put together. Learn about what works well with an audience. But above all, see how each one has their own style, and have the courage to play your own way, your own special sound. That is what people enjoy.
Wolem Wobbit
Wolem Wobbit:
It is different to play inworld than in the real world. You may feel there is a lack of feedback, appreciation, because you can't follow the local chat and also sing... if you try, you start laughing and being distracted! But
it can be very comfortable to be in your home, you don't have to be shy or aware of your look. Y
ou can get famous in your environment, but you won't get rich, it is good for the feeling that people like what you are doing.
Where can you play?
You may want to do events on your own sim, which is great, but bear in mind there are way more sims than there are people in OpenSim. To gain an audience can be an uphill battle, and you should be aware of long-established events that you may be competing with.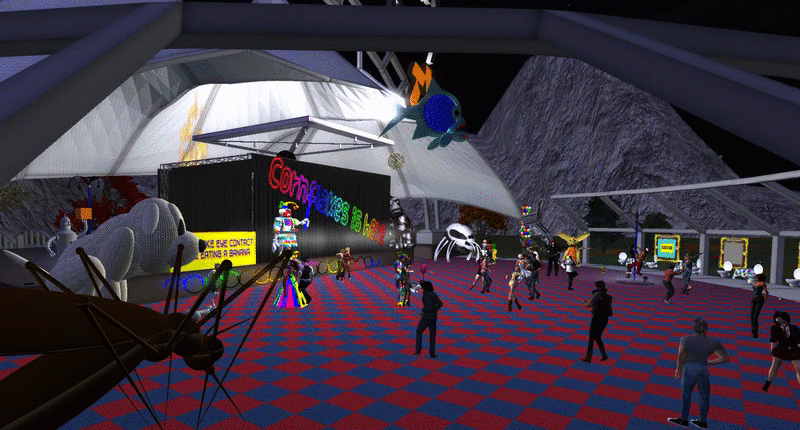 Event Plaza, OSGrid
For example, if you start a dance club that begins around 1pm Grid Time on a Friday, you're competing with the OSGrid Friday dance, which attracts folk from all over the hyperverse as an opportunity to network and chat. You're unlikely to attract many hg friendly people away from that event. But, remember the OSGrid Friday event is always up for new DJs and musicians to perform, so why not bring your music there? That's one possibility, there are many other well established ones... here's just a few.
On 3rd Rock Grid, famous for its annual ROBstock event,
Zinnia Frenzy
and
Kered Owl
are always on the lookout for talented musicians new to performing in opensim, and they organize concerts throughout the week
.
Zinnia Frenzy and Kered Owl
On OSGrid, as well as the Friday event on Event Plaza, the regular Sunday gigs organized by Stiofain MacTomais at the Maritime Club Belfast is another place where you will find a ready made audience. People come here from all over the hyperverse, so you may make some useful new contacts as well as have a good laugh.
Musicians who have performed here recently include Truelie Telling, Casias Falta, Joel Eilde, Joao Frazao, Greybeard Thinker, Nazirah Avro and Singergirl. This eclectic group hail from various grids, including OSGrid, Metropolis, Kitely, and 3DColab.
The Maritime Club, Belfast on OSGrid
Kitely has a well organized grid calendar, showcasing a lineup of varied and interesting events, but apparently a bit thin on the ground music-wise, as are the number of inworld live music and events groups... maybe you're the person to change that?
On GCG, there are a healthy and growing number of social events, thanks to the social spirit and hard work of people like the lovely Jen Smith whose sim Dreamland has two great music venues, Hot Rods Diner and Po' Monkey.
Isis Ophelia's beautiful little grid Arcana is also geared towards music events, and attracts a good number of visitors to her Thursday concerts, from 11am Pacific time, so you may be lucky enough to perform over there.
How can I get people to attend my event?
Most people who have found their way to OpenSim are creative types, so as well as being into music, you may be a builder. If you want people to come and hear you on your own region, there are a number of things you can do.
Post on event guides such as Hypergrid Events or Hypergrid Everything on G+ where spam is welcome! Join your grid's Event group, and post there. Hyperica.com lets you post events. The monthly journal Visionz features upcoming events too Another great resource to get more visibility for your sim and advertise your event is an inworld beacon... see how to do that at www.opensimworld.com. Contact the grid owner or other event organizers on your grid. If you plan your event so it doesn't clash with their regular concerts, they may well be happy to help you with publicity.
What can I earn?
If this question is very important to you, honestly, then you might be better off staying in SL where there are more venues and more opportunities to make money and reach a lot of people. Opensim, even on the hypergrid, offers a small though appreciative audience. For some musicians who feel stuck in a rut in SL, it offers a chance to see some fresh faces and make new connections. For others, it's a chance to explore a different mindset. Yet others enjoy the challenge of playing on a platform that is far from stable, and can throw up all kinds of unexpected crashes and bugs.
But what about the $$$? Opensim is divided into two kinds of grids, the commercial grids, with a currency, and non-profit 'no money' grids.
Despite the name, t
he 'no money' grids usually support some kind of payment system like Paypal, and you may be able to negotiate a fee from a region owner. However, musicians generally work on a free and share-alike basis. These are grids where everyone contributes free stuff: scripts, clothes, animations, servers, sims, support, and so on; people who perform on these grids generally take the view that their talent and expenses are no more or less than the talent and expenses of everyone else.
People show their appreciation by
:
promoting your website, group, and events,

making machinima of your songs like the one below,

giving you inworld items that may range from a rent-free sim to custom animations and instruments

,

favoriting and subscribing to your Youtube or other music channel

buying your music online, if you're set up for that.
On a commercial grid you'll find all the familiar SL accoutrements like tip jars and hosts/managers who repeatedly ask the public to tip the venue, musician etc. Payment options vary from tips only, perhaps with a guaranteed minimum, to straight up fees for playing. Expect fees to be less than in SL. Venue owners are cagey about what they pay, but it seems that it's perhaps 60% of what you'd typically get at an SL music club.
Bear in mind that the hypergrid is still in its infancy, and virtual money is a bit of a mare's nest, unless you're a stay-at-home single grid kind of a person. People tend to think twice about attending an event on another grid where they feel they can't contribute appropriately. That said, music events on many commercial grids have a loyal local public, and opensim musicians play both the commercial and no money grids with perfect ease and harmony.
Music supplies on Clonelife grid
What about being a DJ?
DJing is another great way to make music happen inworld. Unlike internet radio, a DJ can tailor the music to fit the occasion. You can create a special event based around a theme or genre of music, or simply create some random joy in the metaverse. You can pick up some interesting free DJ supplies, including instruments, poses and dance floors on Druskus War's clonelife... hg address is login.clonelife.eu:8002:kang nae
But how complicated is dj-ing? can anyone do it?
Foxx Bode: well, you get Shoutcast or winamp if you don't have access to virtualDJ or Serrato or SAM
. First you setup shoutcast. That
boils down to configuring a INI file, SC_SRV.ini set port, amount of listeners, password, admin password, allow relay or not, stuff you don't know, you don't touch
.
Then with winamp, you need a plugin called Shoutcast DST. It sends the music from the player to the server.
Thirza Ember: so then you just select your song and go?
Foxx Bode: nope. you need to configure the plugin. Y
ou configure an encoder to stream your music to your Shoutcast server,
need to set bitrate, IP password, etc. ...
and 320 KB/ps is nice, but many users with bad connections get cuts if you set bitrate too high. S
tay around 96 or 128 max.
If that's all set, you can start the music, and stream it to Shoutcast. That needs port 8000 and 8001 to be open.
Thirza Ember: LOL sounds really difficult
Foxx Bode: I
t's like setting up your region. I
f you've done it twice, it gets a monkey job. Here is a link to a how-to page. Monkey see, monkey do.
Well, if all that's setup, you can do 2 things. Y
ou either prepare, and make a playlist,
or you just hit it, and select songs on the fly. P
laylists make you comfortable, as you know that every tune you selected, is one you / your public like, or they all fit withing a style. Playing on the fly, enables you to respond to chat.... with music. Do mind the 20 seconds delay, and conversations being fluid :). Also you can "spice things up". sometimes 5 "slow songs" need something beefy behind them, because it gets boring / predictable etc.
Thirza Ember: what about copyright? Is that an issue?
Foxx Bode: I see it like this. ( mind, it's a personal view, not the Law, because that's different per country i think). I have a lot of music. digital and on cd. I play this in my living room, for my friends, which is fine, i own it, so i can play it. Now I move my living room to event plaza, as that's where my friends meet. I play my music there, my friends listen to it. They don't steal/ rip / download the music I have paid for, i presume, and i don't see how one can forbid me to have my friends and me enjoy my collection. Likely they require you to have a permit, or license to "stream" but I paid for my music, and I'm not exploiting commercial venues or doing large scale broadcasts. Only 50 users can enter my server. small, private. Good enough. But, like I said, that's how I feel. The creative has got his money, and I spread his work, so he's happy. I think.