In Open Sim, as in the real world, two things are guaranteed, nobody reads anything, and travel is dangerous. Well, of course, that's not true. It is just that sometimes, there is such an information overload, that reading doesn't cut it.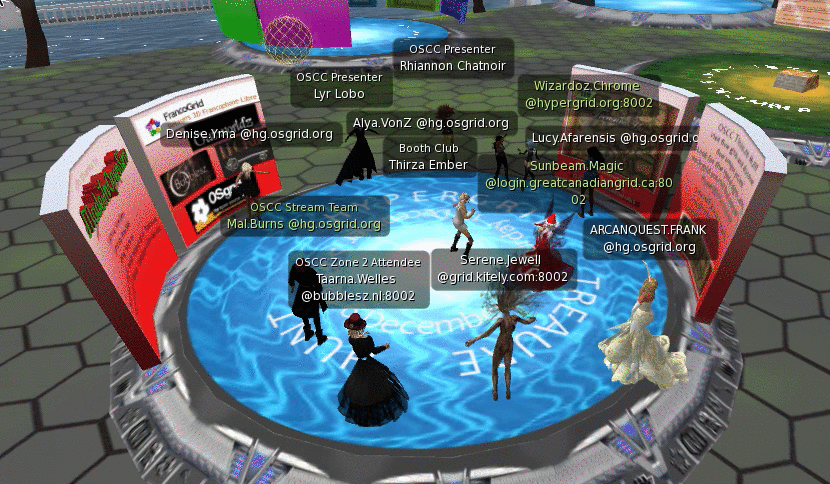 Gif shamelessly stolen from Serene Jewell
This week the Safari did some recycling, for we did nothing more than hop over to the OpenSim Community Conference grid, which is a small purpose built grid hosted on the servers of the University of California at Irvine. Our goal - to visit the four Expo sims on the Conference grid, and then to try the Hypergrid Treasure hunt which is described on the four red posters you can see in this gif.
Addresses at the end of the post.
You know you want one.
The conference was last Saturday. There were a lot of good presentaions about subjects like '
Fun with 3D Headsets
' and '
What you can do with NPCs
' and '
Virtual Epidemiology
' (honestly, that is an actual thing) and most importantly in terms of shaking your fist at the purveyors of all those recent hiccups in OSGrid that have made you waste time re-doing stuff like building, applying textures, setting permissions, writing notecards, taking Landmarks, or crashing ten or twenty times when trying to make a simple hg jump from one place to another... - '
Who has been poking about in OpenSim code recently
'.
If you missed the conference or would like to view it again, then click here to go to the Ustream page.
Each of the Expo sims can hold as many as eight booths but this year most of them have less than that, so visiting them is a pleasant and stress free experience. The regions are handily positioned in a row, so you can easily navigate between them by simply opening your Map.
To add to the fun of visiting the Expo (and to the confusion about this week's Safari) there is an 'OSCC Treasure Hunt' prepared by Sun Tsu in which you answer questions in chat and find tokens. To make that happen, just click on a Hippo chasing (duh) a token, and all necessary information will appear like magic.
Another example of people not reading stuff, I have walked past this hippo pretty much every day for the past few weeks without once realizing you could or indeed should click on it. But then I was focused on the HG Expo and (if I say so myself) accomplishing the difficult task of making hypergridding sound even more complicated than it really is, with typos.
Anyhoo, o
n Expo 1 there are, among other things, a building dedicated to Blender..
Serene ponders the mesh
... and some space stuff...
While on Expo 2 there is the HG Expo, plus some commercial booths selling services like grid design, hosting, and the 3DLES grid which is a language acquisition grid run by long time friend of the Safari, Nick Zwart. Here's the MeetInstantly grid's booth. It always makes me thing of Nescafe, I don't know why.
Expo 3 has cupcake info-booths, which you KNOW I did not stop and read) and a dragon that swoops all over the place, but annoyingly will not let you ride it (I bet that was a permissions thing)
...while on Expo 4, the stand-out exhibit has to be Francogrid's whimsical column of stuff, and pick up the collection of full permission Avatars they have generously gifted to the community, but you can also hang out in the lounge on the comfortable Littlefield booth.
Francofun
After about an hour of looking at the expo and people asking me questions about the Expo Hunt which I didn't even know existed, it was time to change pace and go off into the wild blue yonder in search of the HG Hunt prizes.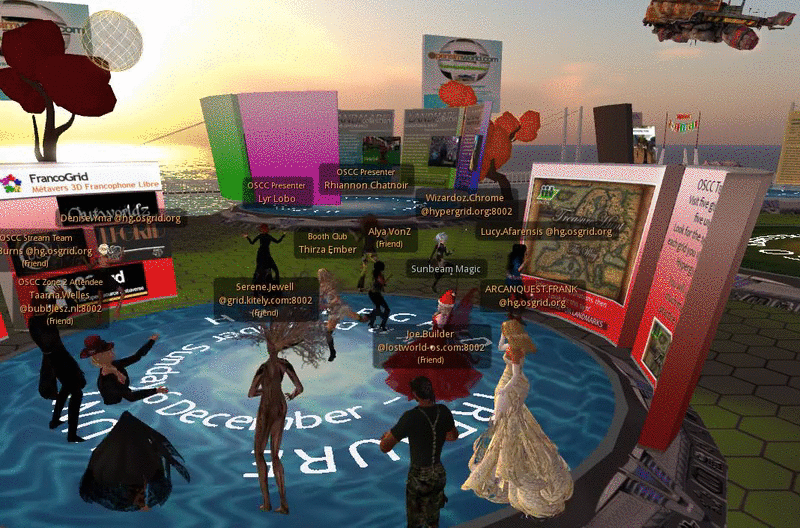 Let the Hunt begin!
Landmarks and Hunt Clues are inside the poster with the map on it. Just buy the contents.
The idea behind the HG Treasure Hunt was to get people hypergridding, and also make them aware of the free free content available across many grids.
Five creators generously offered their creations and took the time to set out their goodies, providing a clue to help you on your way. The five prizes represent a sort of HG survival kit...
On Steam you can find a hat.
This gorgeous region on OSGrid is by Vbinnia Radek. Look for the treasure map signs, and you will find it, although fair warning, the richness of the textures on this sim mean that it takes a really really long time to rez here. My advice, teleport over here, put your graphics on low, and go make a drink or a phone call or something for about 5 minutes. Then raise your graphics up to your preferred level. Otherwise, it is frustrating.
On Savvy you can find footwear.
Taarna Welles of Bubblesz grid has some amazing stuff on Savvy, so there is a good chance you will not even go and wander into the forest to look for the prize, because you will be too busy buying men's and women's accessories in the shops. But when you do finally go into the wood, it will be worth it!
Look for the Acornoble family, sitting among the rocks... cam in close, not only for the free shoes which are darling, but also to see this amazing miniature spider.
On Virunga, you can find a rideable animal
Outworldz grid is always a delight, with a range of games and adventure sims to explore. Ferd Frederix kindly took time out of his busy pre-conference prearations to set out prize in the Marketplace on Virunga, a jungle themed var region.
Var regions are of course much bigger than ordinary sized regions, and that causes some serious headaches when hypergridding as the HG pixies who make the teleport happen do not like coordinates higher than 256. So it is a good idea to jump to the Outworldz Welcome sim first and then type Virunga into your map. Then look for the marketplace.... good luck! it is a huge region!
On Freebies Garden, Francogrid you can find a handy weapon
Archael Magic donated his special cyber gloves to the Hunt, they are in a banana, and this has to be the hardest prize to find, just because eve tough the region is set out in simple, easy to navigate aisles, there are just sooooo many trees on Imperator Janus' free tree sim! I cheated and let Mal help me find the banana, which was much less rude than it sounds here. My advice here, don't look up in the branches - look for a fallen tree. Or just go over there with Mal.
On Littlefield Welcome there are his and hers clothes
Amy Storm has been donating to the community for years... she is one of the creators behind the resources on OSGrid's Newbie arrival sim. I have her cloud fix pack, and useful newbie cloud advice notecard from 2013, till very helpful!
Here is the beautiful hoodie that is just one item in the Treasure Hunt prize. There are items for the guys too, and this is a really easy prize to find, so if you struggled to pick up the others, this one will be a nice change of pace.
In terms of hypergrid these days, she is perhaps less well known than many of the other designers, because her home grid Littlefield has a No Export policy.
However, she kindly placed a prize on the LFGrid Welcome sim, where you can find portals to all their major regions.
Meanwhile, back on OSCC, the party went on to the Tunes of the 80s, and three Thirzas joined Rhiannon Chatoir, aka Joyce Bettencourt the coordinator and fairy godmother of this year's conference, and one of the many iterations of Lucy Afarensis whose photography and landmarks are a wonderful addition to the HG Expo.
Having multiple avies is really confusing as well as very handy. Probably time to lie down in a darkened room.
HG Addresses
The OSCC grid cc.opensimulator.org:8002
The expo sims are called " oscc expo zone 1 " and 2, 3, 4 ...
The Treasure hunt regions
event ends on Saturday 12 December
Steam hg.osgrid.org:80:steam
Virunga outworldz.com:9000 then find " Virunga " in your Map
Savvy bubblesz.nl.8002:savvy
LF Welcome lfgrid.com:8002
Freebies garden hg.francogrid.org:80:freebies garden